The r1 Residential:
2,000ish sq. ft., 2 bedroom, 2 story green, modern house.
Click here to view the first floor and second floor pdfs.
Click here to see dimensions and layout of the R1 Residential with The R1 addition.
Click here to see dimensions and layout of The R1 Residential with The R1 garage.
Statement: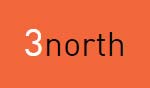 We want a green, modern, gorgeous,
affordable
house.
I approached 3 North to work on The R1 Residential as they specialize in small spaces. How can you make a larger house than casa ti while remaining responsible? With 3 North... easily.
Let's talk about this two story design. Look at that central stack: it is designed to serve as the lungs and the digestive tract of the home, enclosing the whole house fan and any other HVAC systems, and serving as the conduit for fresh air to be drawn in from the perimeter windows to be exhausted through louvers at its peak. Additionally it houses the powder room, the hall bath, and the laundry room, affording an efficient and economical plumbing layout.
Check out the partitions in the dining area. And the translucent panels that let in light and a sense of space yet maintain privacy in the bathroom, in the partitions... and guess what, folks?
The R1 Residential also has NEW ADD ONs... Yes, a garage and suite, because those of you with five and more children were able to convince me you needed it.
(So, in honor of the H.'s, with seven children... here you go. : )
Anyone that has to buy an airport shuttle to get their family around town deserves an addition to The R1 Residential .)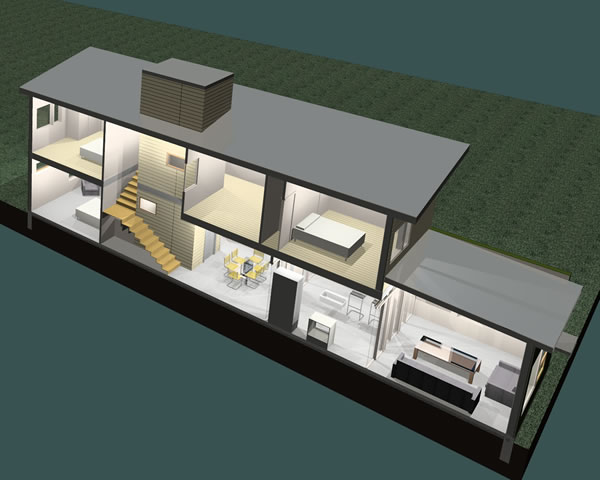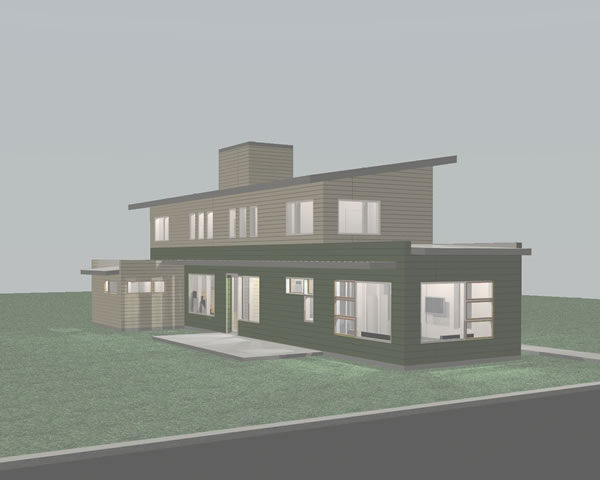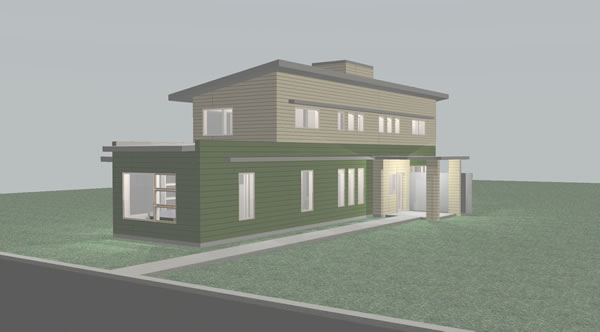 1st floor: 1196 s.f.
2nd floor: 832 s.f.
Optional bath: 140 s.f.
Total Area:
2028 s.f. without bath, 2168 s.f. with bath
So what DO you get?
Each SIPs house kit is fabricated by the plant closest to you geographically.
The Wall and Roof Packages are SIPs (Structural Insulated Panels) which provides great insulation. In fact, the R value for the 8 3/8" roof panels has an R-value of 29.3 when tested at 75 degrees F and a 31.6 when tested at 40 degrees F. The 6 5/8" wall panels have an R-value of 22.6 when tested at 75 degrees F and a 24.3 when tested at 40 degrees F.
Note: If you need higher R-values, we can adjust our panels accordingly:
4 5/8" -- R-Value 15
6 5/8" – R-Value 24
8 3/8" – R-Value 31
10 7/16" – R-Value 39
12 7/16" – R-Value 47
Both kits are bare bones: you get beautiful design and structure (SIPs exterior walls & roof, and design documents) and you will need to finish the house with a local contractor. We have created a list of windows, cladding & doors to order directly through the vendor to make it easy on purchasers and their contractor.
This then gives you great design, but allows you to choose the systems and finishes that best compliment your lifestyle and budget, thus making it your own.
Recommended Features / Systems:
Foundation - concrete with 50% fly ash
Exterior walls - Rain screen clad with weatherproof panels
Trespa / Paperstone / Hardiplank / Hardipanel / Reclaimed Wood...
Sliding translucent screens providing flexibility in space delineation.
Roof – Ventilated, standing seam metal with radiant sheathing over conditioned attic
Windows/Exterior doors – Jeld-Wen insulated aluminum clad exterior with wood interior
Floors – prefinished bamboo
Interior Walls/Ceilings – Mag-board mold-resistant sheathing
Primary Heating – passive solar
Secondary Heating – radiant floor hydronic with gas or solar powered water heater
Primary Cooling – natural ventilation/convection via central "chimney" augmented by whole house fan
Secondary Cooling – Ice Energy (available 2008)
Electric Service – roof-mounted or remote solar array with local utility back-up
Lighting fixtures/switching – compact fluorescent and led with smart switching
Plumbing – dual flush water closets, grey water recovery system
Click below to see the floorplans, enlarged.
And guess what? We have add ons.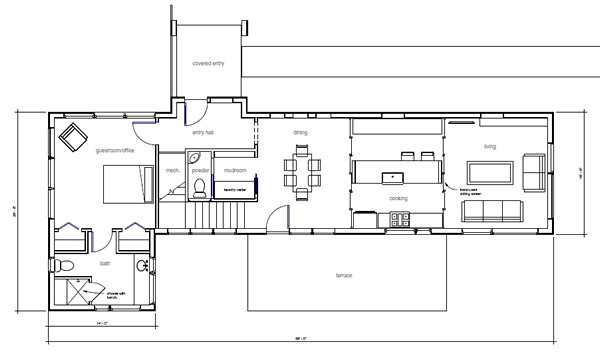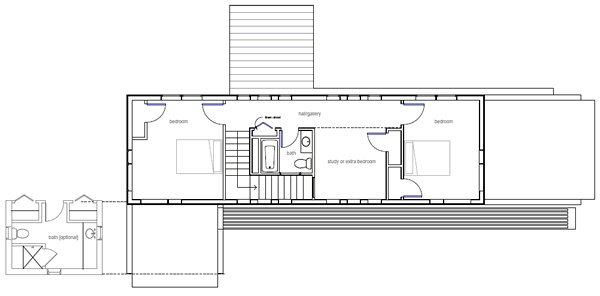 The R1 Residential Kit will be around $30,000. (Depending on where you live)
(With the optional bath it comes to about $33,000)